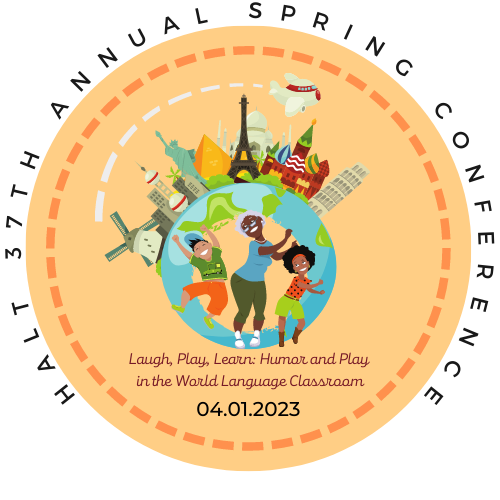 Hawai'i Association of Language Teachers is pleased to announce that we will be IN-PERSON at the Kamakakūokalani Center for Hawaiian Studies UH Mānoa Campus
Saturday, April 1, 2023, 7:45am – 2:30pm
For our 37th Annual Spring Conference
"Laugh, Play, Learn: Humor and Play
in the World Language Classroom"
KEYNOTE SPEAKER:

Dr. Diane Neubauer

Diane Neubauer completed her PhD in Foreign Language and ESL Education at the University of Iowa in 2022. Diane is currently researching how language play facilitates students' involvement in using and responding to use of the target language in novice-level Chinese language classrooms. Prior to her PhD, she taught Mandarin Chinese for 10 years in elementary, middle, and high schools in the US. Since 2017, she has continued to teach Chinese online and in language teacher training contexts. Play is a regular part of her own language teaching through imaginative, collaboratively-created stories and playful talk. She served as an officer in ACTFL's Comprehension-based Communicative Language Teaching special interest group from 2018-2022. She produces videos on YouTube for Chinese language learners & teachers, blogs about language teaching & learning, and is on Twitter @DuYanzi. She speaks English and Mandarin Chinese, and has learned some French, Thai, ASL, Spanish, and Japanese, and recently began learning Vietnamese.
Pre-registration
Pre-registration deadline: March 29, 2023
HALT MEMBER RATES
$30 (student)
$35 (professional)
HALT NONMEMBER RATES (includes complimentary 2023 membership*)
$35 (student)
$60 (professional)
* NOTE: If you are a nonmember and do not wish to have the complimentary membership, please notify us via email.
LUNCH TICKET (OPTIONAL) – $12 (standard and vegetarian options available)
We recommend that you purchase your lunch ticket before the registration deadline as there will only be limited tickets available onsite.
Parking
Parking will be available in the Zone 22 parking structure ($5 flat rate). Please purchase a parking pass from the green parking kiosk (credit card only) and place it on your dashboard. For more information about visitor parking, click here.
The 37th annual HALT Spring Conference is co-organized by the Hawai'i Association of Language Teachers and the National Foreign Language Resource Center at the University of Hawai'i at Mānoa.