35th Hawai'i Association of Language Teachers (HALT)
Spring Conference
"Transformation of Teaching: Zooming Back to the Future"
What has worked and what will you take with you?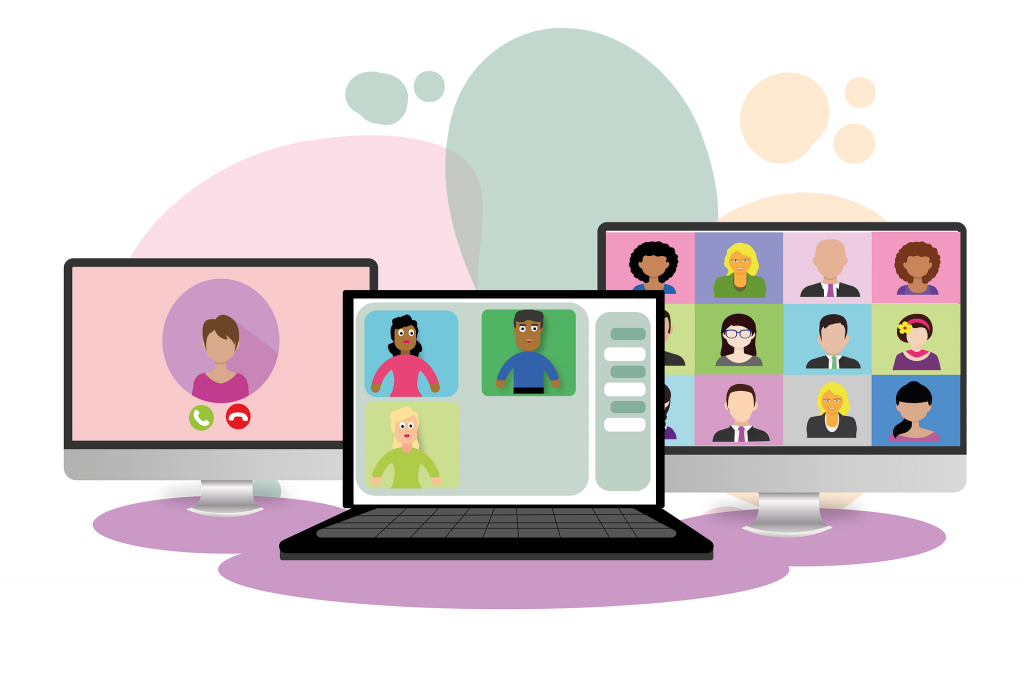 Saturday, May 8, 2021
Presented Virtually via ZOOM
VIEW OUR SCHEDULE GRID TO SEE THE LIST OF PRESENTATIONS AND ACTIVITIES
2021 Keynote Panel:
HALT is pleased to welcome a panel of three ACTFL Teachers of the Year to share their experiences and takeaways with us about what they have learned from teaching through the pandemic.
Elena Kamenetzky, 2021 Teacher of the Year, Japanese
Elena Kamenetzky began her teaching career as a participant in the JET (Japan Exchange and Teaching) Program, teaching English to elementary and middle school students in Shimoina County in southern Nagano Prefecture. After three years living and teaching in Japan, Elena returned to the United States and earned her Master of Arts in Teaching from Northern Kentucky University. She began her Japanese teaching career by splitting her day between Westport Middle School and Eastern High School in Louisville, Kentucky. After three years of madly dashing between schools during her lunch hour every day, Elena was lucky enough to be hired full-time at Eastern High School. She has been teaching Japanese 1 through Japanese 4 at Eastern ever since. Elena has previously served as president of the Kentucky Association of Japanese Language teachers, is currently serving as the organization's treasurer, and is also a member of the Bluegrass Area Japanese Speech Contest Committee. Elena is always looking for opportunities for her students to also get involved in the language learning community, whether that's participating in classroom exchange programs like Global Classmates, participating in state and national competitions such as the Japan Bowl, or joining Eastern High School's chapter of the National Japanese Honor Society. Elena travels with her students to Japan during the summers of even-numbered years; although her planned 2020 trip had to be canceled, she is looking forward to bringing students to Japan again in 2022.
Rebecca Aubrey, 2019 ACTFL Teacher of the Year, Spanish
Rebecca Aubrey has over 20 years of teaching experience at the college level, and 12 years of experience teaching Spanish in grades K-8. Rebecca presents broadly around the country on topics like differentiation, thematic planning, and target language use. Rebecca is passionate about exploring the cultural and linguistic diversity of our world, and equally passionate about empowering students to do the same. She is the 2019 ACTFL Teacher of the Year.
Ying Jin, 2018 ACTFL Teacher of the Year, Chinese
Ms. Ying Jin has more than 20 years Chinese language and culture teaching experience in diverse settings, including middle schools, high schools, and colleges in both the U.S. and China. She is currently a teacher of Mandarin Chinese in the Fremont Union High School District in Cupertino, California. Ms. Jin was named 2018 Teacher of the Year by ACTFL, 2017 Teacher of the Year by both the Southwest Conference On Language Teaching (SWCOLT) and the California Language Teachers' Association (CLTA). Ms. Jin served as President of Chinese Language Association of Secondary-Elementary Schools (CLASS) in 2019 and has served on the CLASS board since 2015. She currently serves on the board of ACTFL as well.
REGISTRATION INFORMATION:
The registration deadline (May 6, 2021) has passed. We are no longer accepting registration requests.
Virtual conference registration fees are as follows:
$10 (HALT Student Member rate)
$15 (HALT Professional Member rate)
Schools and departments, we now have a new HALT Spring Conference Group Registration invoice request form, which you can use to pay for your teachers or students. After submitting the information in your form, we will verify the information and then issue an invoice, which you can pay either via check, PO, or credit card.
IMPORTANT NOTES:
We have discontinued the HALT conference non-member professional rate. If you are not a HALT member or your previous HALT membership has lapsed, you must join or renew via our online Membership form **BEFORE** proceeding with your conference registration.
If you are unsure of your HALT membership status, please send an email to us to inquire.
Cancelation policy: If you need to cancel your registration, please send an email to us no later than May 6, and we will refund your money, minus a small administrative fee. There are no refunds after that date or for conference no-shows.

Questions? Contact us at: HALT808@gmail.com or jeennacanche@gmail.co